stronger together
The senseless death of George Floyd and other black Americans is unacceptable. The Refinery has been working to engage our workforce in a conversation about their feelings of sadness, anger and frustration caused by these tragic deaths. Racism is not new. For many of us, we simply didn't see it or choose to acknowledge it. But that doesn't mean it doesn't exist. So, today, we choose to see it. To call it out. And to stand against the injustice our black friends, colleagues and community have faced for too long. Our Refinery Black Employee and SOMOS Networks recently hosted a conversation for Refinery employees about recent events. The intent was to create a safe space for employees to speak, vent and express thoughts and feelings. We hope these dialogues empower us to achieve meaningful progress and continue to shape a more compassionate and hopeful future for our Refinery and our community.
helping in times of need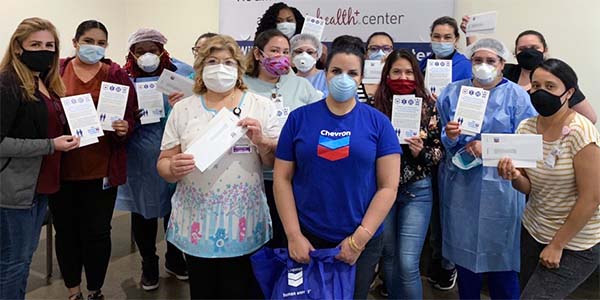 During this time of uncertainty, we recognize the community needs support now more than ever. Together with our community partners, Chevron has implemented a series of social investment and support initiatives to help communities and nonprofits address the COVID-19 public health crisis. This includes including funding for food banks to feed the hungry, remote learning grants to help teachers engage students studying at home, and donations of surgical masks to help Bay Area medical responders who are treating our loved ones. We are supporting the Fab Lab's effort to 3D print face shields for healthcare providers and donating gas cards to essential workers as they help keep our communities safe. We also continue to produce the transportation fuels needed to keep the economy moving. Whether it's working remotely or the inability to physically be out and about connecting with others, we hope that you are coping in positive ways with the challenges that we are all facing. Please know that you are not alone and remember that staying connected is an important part of maintaining resilience through this period of uncertainty.
encouraging future entrepreneurs
Chevron has been part of the Richmond community for nearly 120 years. Over that time, we've strived to build lasting partnerships to invest in economic and social development.
We are pleased to share our 2019 Social Investment Report, which highlights our work with local organizations that, like us, are committed to making Richmond and West Contra Costa County a better place to live, work and play.
I'm particularly proud of our work around STEM and entrepreneurship, at all levels of education, from early elementary to adult. Our support ranges from introducing kids to cutting-edge technology through Fab Lab Richmond, to supporting Pogo Park's social enterprise model and the newly opened CoBiz Richmond, a business incubator that is bringing Silicon Valley's innovative spirit to Richmond.
These programs are designed to encourage curiosity and creativity – valuable skills that are needed for success in the future economy. We hope they will inspire future Richmond entrepreneurs and problem solvers.
2019 community investment report
Chevron is committed to investing in Richmond and West Contra Costa County by giving time and resources to support organizations that make our community a better place to live and work. We partner with results-oriented organizations that help improve education, drive economic development, train workers and create opportunities for youth.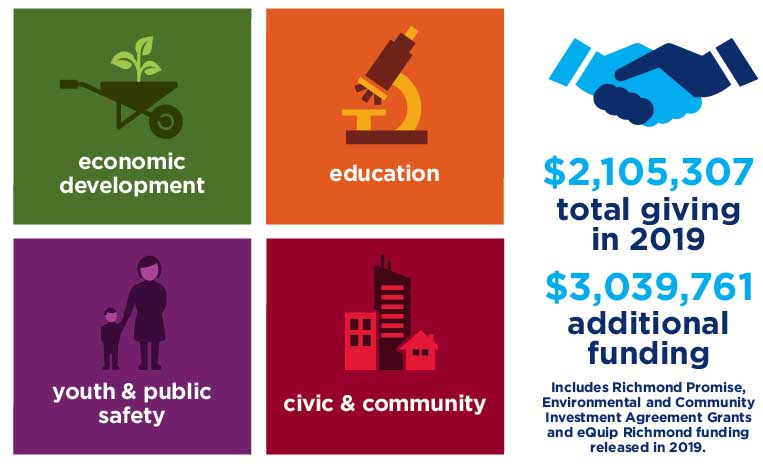 dddd
community spotlights
helpingchangelives
helping change lives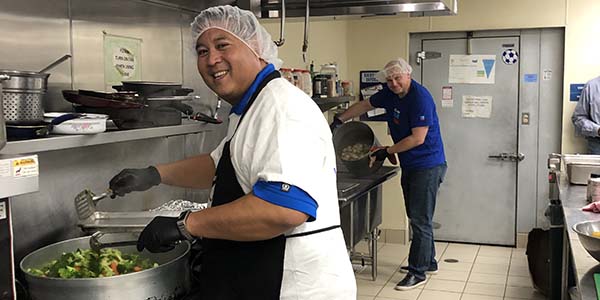 GRIP is an organization that is focused on helping eradicate homelessness in Richmond. They provide meals, supportive housing and job training for some of the most vulnerable people in the community. I serve on the Board of Directors and volunteer to cook and serve dinners. It's deeply meaningful to directly serve our community. I love the passion that Kathleen Sullivan, executive director, and the Board has for GRIP's mission. We truly believe that it's possible to reach out to every homeless person in Richmond and help them get back on their feet. GRIP brings its mission to life with its actions and results. My parents taught me that giving your time in service to others is something we can all do and that's how I try to live my life. GRIP is always looking for people to give time and money in any amount, so please consider doing what you can to help. To learn more about GRIP, visit www.gripcares.org or call 510-233-2141.
-Naomi Woodard, Maintenance and Reliability manager for Chevron in Richmond
inspiringthenextgeneratio
inspiring the next generation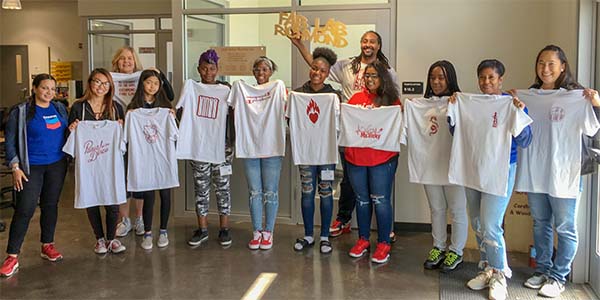 I am delighted to volunteer with other Chevron female leaders in our "Women in Progress" initiative. We aim to develop bonds with and mentor Bay Area girls. Here in Richmond, I have attended events with Girls Inc. of West Contra County students to participate in fun and educational activities such as holiday gift sorting and science experiments. We hope these events inspire girls to see that women can be leaders in science, technology, engineering and math (STEM) and the range of opportunities that can be opened through education. Personally, getting to know the girls and developing relationships with them is also a learning opportunity for me. Their energy is infectious, I get so much out of the experiences. It's often hard to determine a career path at a young age. We hope these early-life interactions with female leaders has the potential to help them think broadly, challenge any unconscious bias about female professionals, and inspire these girls to set high goals for their future careers.
-Corry Kennedy, Human Resources manager for Chevron in Richmond
supportinghands-onlearning
supporting hands-on learning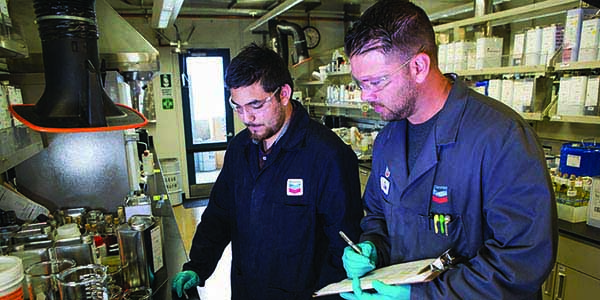 Chevron supports the American Chemical Society's Project SEED program, which provides opportunities for high school students to spend a summer conducting hands-on research in academic, government and industry research laboratories. Over three decades, the Chevron Richmond Technology Center (RTC) has hosted dozens of Richmond students who spend nine weeks working with research chemists on real-world experiments and projects. We try to recruit local students who might not otherwise have access to mentors and opportunities in the sciences. The students we get are very smart and eager to learn and perform great work. They also get paid during their Project SEED internship. We are delighted to have a former Project SEED student who came back to work in our labs after graduating from college. Many students might have the talent for this type of work and exposure to it in high school can help them see it as a potential career path.
-Ken Nelson, Research Technician for Chevron in Richmond and Site Coordinator for Project SEED