tolly graves

Director, Chevron Richmond Refinery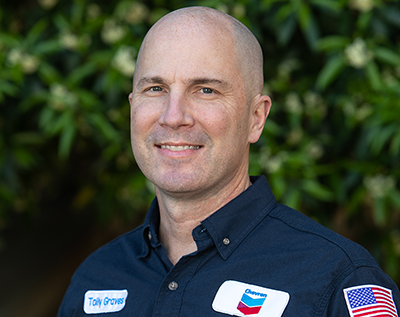 Tolly Graves is the Director of the Richmond Refinery, a role he assumed in January 2022. He is responsible for ensuring the safe, reliable, efficient and environmentally sound operation of the refinery.
Graves joined Chevron in 1994 as a process engineer at the Pascagoula, Mississippi Refinery. Since then he has held numerous positions of increasing responsibility in Mississippi and California during his Chevron career. Prior to assuming his current role, Graves served as the El Segundo Refinery operations manager.
Graves is a native of Alabama. He graduated from the University of South Alabama in 1992 with a B.S. degree in chemical engineering.